Hi everybody,
did you ever wanted to possess a freaky, laser-based 3D model scanner? Me too!
What about a self-made 3D laser scanner?

During my research about laser scanners I found this promising laser project:

http://www.david-laserscanner.com/

All you need is some sort of gadget that produces a laser line and a web cam. For me the laser line from my hardware store tool set was sufficient. I found my old Logitech Quick Cam Pro 4000 (640px x 480px) in my basement.

I printed the calibration sheet from their website and was instantaneously able to measure 3D data of one of my miniatures. As you can see the results are promising but not usable at the moment.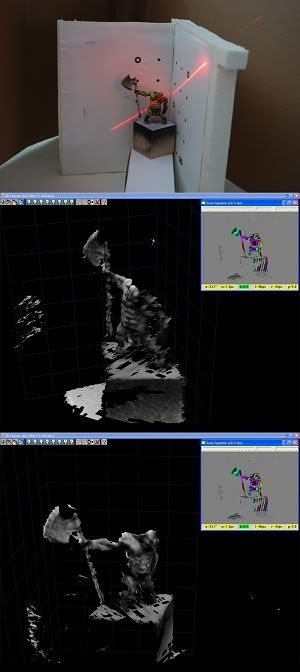 If you are interested to fiddle with your webcam and lasers than you are invited to try this yourself!